Breast Augmentation
Breast augmentation involves the placement of implants to create larger breasts with a pleasing shape. This highly customized procedure allows women to feel more self-confident and to achieve a more proportionate figure. Women who have had breast implants find that clothing fits them better, and they feel more attractive.
Breast implants are also used in breast reconstruction for women who have had a mastectomy after breast cancer or women with misshapen breasts due to genetics or injury.
Most women over the age of 18 are good candidates for breast implants, but the procedure is not advised for women with active cancer or women who are pregnant or breastfeeding.
Prior to your appointment for implants, we will consult with you to understand fully how you wish to look. We will provide our recommendations and tell you everything you can expect during and after your surgery. After a thorough examination, we will devise a surgical plan to achieve your desired result with the most discreet incisions possible.
interested in breast augmentation?
Click on the button below to view our gallery of real patients.
click here to learn more
Breast Implant Incisions
Incisions for breast augmentation can usually be placed in areas that are largely hidden, such as under the crease of the breast (inframammary incision), around the areola surrounding the nipple (periareolar incision), or under the arm (transaxillary incision).
You may have heard about an incision through the navel, but this method is not recommended, as it has not yet been sufficiently studied.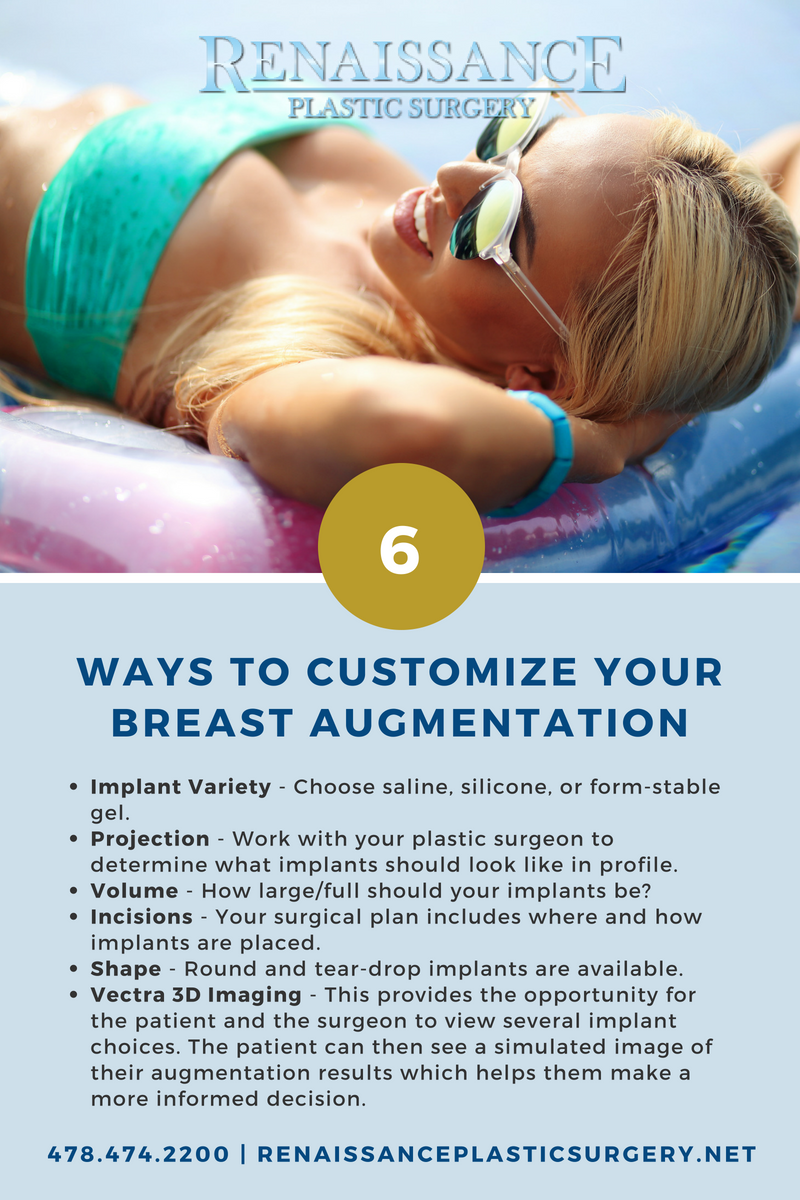 Breast Implant Placement
Besides incision placement, the implants can be inserted in one of two areas – under or over the chest muscle.
Placing the implant between the chest muscle and breast tissue allows for a shorter surgery and faster recovery time with less post-surgical pain. This is called "sub-glandular" placement. The implants may be easier to see and feel through the skin, however.
Sub-muscular placement under the chest muscle allows the implants to be less easily seen and felt, but recovery takes slightly longer. This placement may also allow for more accurate mammogram imaging and may decrease the chance of scar contracture around the implant.
Our surgeons will help you make the best implant placement decision for you.
Breast Augmentation Patient Education ASPS
Types of Implants
There are different types of implants. When you decide to get breast implants, you have a lot of specific choices, not only in terms of the size and type of material but also in terms of shape. One manufacturer alone makes 143 different shapes and sizes of breast implants.
We will thoroughly discuss the advantages and disadvantages of each with you so that you can make the optimal choice for your needs.
Saline Implants are filled after they have been placed in the breast, which means that a smaller incision is required. The ability to fill the implant after insertion also allows the doctor to adjust the size during surgery. These implants are FDA-approved for women of age 18 and older.
Silicone Implants are generally believed to have a softer, more natural feel than saline. They are especially recommended for women with thin tissue and/or little breast tissue. Silicone implants require a larger incision, however, because they are filled prior to insertion. These implants are FDA-approved for women of age 22 and older, although younger women often qualify for their use.
While breast implant ruptures are not a frequent occurrence, both saline and silicone implants can rupture. The FDA recommends that women with silicone implants have an MRI every two years to determine if a rupture has occurred. This is because silicone implant ruptures may not be readily detected. Saline, on the other hand, simply deflates if a rupture occurs, so it is easily detected.
Cohesive Gel Implants, also known as form stable or "gummy bear" implants, can be divided in half, and the contents will not spill out. The gel of these implants is similar in consistency to gummy bear candies, they are less prone to leakage, and they will not lose their shape if the outer shell is disrupted. These implants also have a natural, teardrop shape.
Mentor Gel Checklist Natrelle Gel Checklist
Mentor Saline Checklist Natrelle Saline Checklist
"Excellent surgeon! Very knowledgeable and took the time to answer all of my questions! Very happy with my results and the experience I had!"
– Patient Testimonial
See Your Results Before Surgery!
Considering Breast Surgery? Try VectraXT 3D Imaging available only in Middle Georgia at Renaissance Plastic Surgery.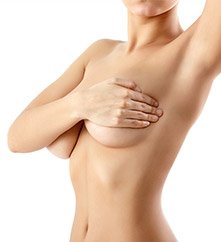 When you decide to have breast augmentation at Renaissance Plastic Surgery, you can have confidence that our surgeons have many years of experience guiding women toward safe, optimal results. We will help you make the best choices for you and provide you with the outcome you want.