Tummy Tuck
A tummy tuck or abdominoplasty is a popular surgical procedure that rids your body of stubborn belly fat. Unfortunately, diet and exercise can only do so much, and for some, fat in the midsection of the body remains despite their hard work and best efforts. The good news is that an abdominoplasty can take care of what diet and exercise cannot.  Check out our blog: Rectus Diastasis: Why Sit-Ups Won't Cut It
A tummy tuck involves more than just excising skin. Muscles must also be repositioned. For this reason, the skill of your surgeon is vitally important. At Renaissance Plastic Surgery, our surgeons are well-versed in this procedure for both men and women. They have performed many tummy tucks safely and with satisfying results for their patients.
Our staff will fully prepare you for your surgery so that you know exactly what to expect and what to do before and after the procedure. Every surgical plan is customized to accommodate the unique anatomy of the individual.
What can a tummy tuck correct?
A tummy tuck can:
• Remove belly rolls and love handles
• Flatten the tummy
• Slim the waistline
This surgery is often performed after significant weight loss or after weight loss surgery.
Are there visible scars after a tummy tuck?
Yes, tummy tuck surgery does involve visible scars. However, these are positioned low on the body. In most cases, the incision is placed horizontally from one hipbone to the other, and the scar will fade to some degree over time.
What happens during a tummy tuck?
After the incision has been made, excess fat and skin is excised in the tummy area. Liposuction may also be performed at this time to remove excess fat. The muscles must then be tightly repositioned to accommodate the smaller abdomen and waist.
An outpatient procedure, abdominoplasty is usually performed under general anesthesia with an anesthetist present throughout the surgery to monitor you.
What can you expect after abdominoplasty?
Recovery time from a tummy tuck varies depending on the individual. Most patients return to work in 1-2 weeks, but for those who have had a considerable amount of skin and fat removed during the surgery, a longer recovery period may be necessary.
As can be expected after any surgery, you will experience some pain, swelling, and bruising after your tummy tuck. We will provide you with a pain medication prescription, and you will need to sleep on your back for a period of time. All sutures are buried under the skin and will not require removal.
You will have drains to collect any post-surgical fluids. These will be removed during a follow-up visit when the drainage has subsided sufficiently. There may also be a pain pump placed to trickle an anesthetic in the region where the muscle wall tightens. This can simply be pulled out and discarded in two days.
We will provide you with detailed after-care instructions and monitor your healing during subsequent appointments.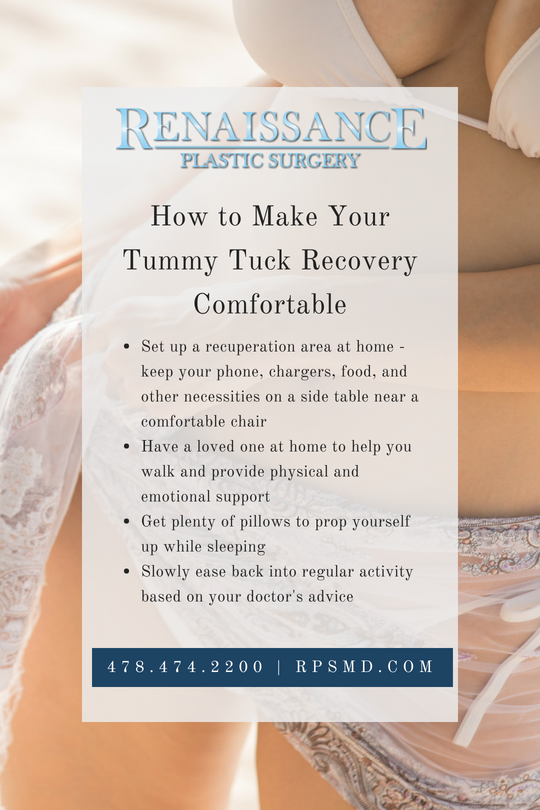 Is a tummy tuck right for you?
If you have excess fat and skin in the abdominal area that has not responded to diet and exercise, a tummy tuck may be your answer. If you have unwanted fat in this area without excess skin, liposuction alone may be sufficient to accomplish your desired outcome.
Our surgeons will examine you and advise whether a tummy tuck or liposuction alone will help you achieve a slimmer midsection.
"Dr. Syribeys and his entire staff at Renaissance Plastic Surgery in Macon, GA were FANTASTIC! Dr. Syribeys was kind, compassionate, knowledgeable, and caring from the first visit to many months later in follow up visits. His bedside manner was perfect. I am completely satisfied and ecstatic with the results of my tummy tuck and liposuction!! He came highly recommended to me and now i see why. Entire staff was FABULOUS. His nurse Jessica is a sweetheart. Highly recommend!"
– Amelia Pelton, Patient Testimonial
Contact our office today for a consultation to discuss your candidacy for tummy tuck surgery.