Volbella
A soft filler that lasts in the
LIPS and PERIORAL LINES

Enhancing the Natural Shape of your Lips
Finally, a facial filler designed to specifically treat concerns around the mouth! Vertical lip lines and wrinkles around the mouth are no longer a concern! We are excited to add this non-surgical lip augmentation treatment, Volbella, to our list of treatment options for our patients. Juvéderm Volbella® is a smooth injectable that is formulated to add fullness to the lips and smooth skin around the mouth, all while keeping a natural look and feel.
JUVÉDERM VOLBELLA® XC—the first and only FDA-approved filler proven to increase lip fullness and soften the appearance of vertical lip lines for up to 1 year.
What is Volbella?
Volbella is the latest FDA-approved dermal filler introduced to the Juvéderm group of fillers. Designed specifically for the lips, Volbella can gently increase volume and diminish the appearance of lines around the mouth. It is a clear, smooth gel that contains hyaluronic acid developed through the patented Vycross® technology. Since hyaluronic acid is a naturally occurring molecule found in our bodies, this lip filler is safe for adults over the age of 21. The hyaluronic acid found in Volbella creates a long-lasting formula allowing for natural looking and feeling results.
Volbella lip fillers can accomplish the following:
Subtly restore volume to the lips
Smooth lines around the mouth (smoker's lines)
Enhance the border of your lips
Define the cupids bow
Just like Voluma, Volbella is formulated with a small amount of the numbing agent, lidocaine. The lidocaine allows for a more comfortable procedure by minimizing discomfort of the injections. If needed, we can apply a numbing agent prior to injections to ensure patient comfort.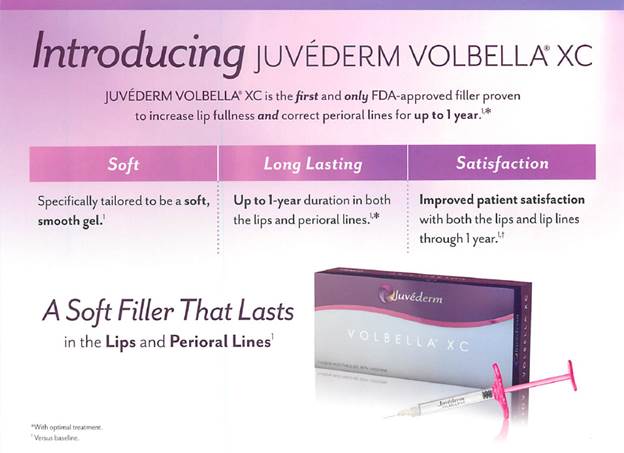 What makes Volbella different?
Volbella is a unique facial injectable that is the first FDA-approved filler specifically formulated to address concerns around the mouth. Volbella is developed with Alergan's Vycross® technology which delivers a smooth, clear gel. The smoothness of the clear gel creates long-lasting results for up to a year.
How is Volbella used?
JUVÉDERM VOLBELLA XC™ injectable gel is injected into lips and perioral lines to increase lip fullness and smooth wrinkles and fine lines around the mouth.
What are possible side effects of Volbella?
Most side effects are mild or moderate in nature, and their duration is short lasting (30 days or less). The most common side effects include but are not limited to temporary injection site reactions such as: redness, pain/tenderness, firmness, swelling, lumps/bumps, bruising, itching, dryness and discoloration. As with all skin injection procedures there is a risk of infection.
What is recovery like after Volbella?
After receiving Volbella lip enhancement fillers, you will not experience any downtime. It is best to avoid sun exposure and to limit intense physical activity for twenty-four hours following your injections. However, Volbella will not hinder your performance on your normal daily tasks. Typical mild side effects of Volbella are redness, swelling and bruising, but they should not last longer than a couple of weeks.
Is Volbella right for you?
If you are looking for a non-surgical option to enhance your lips or you are looking to smooth out the fine lines around your mouth, Volbella may be right for you. Contact us to schedule your in-office consultation at any one of our Georgia locations: Macon, Peachtree City or Warner Robins. One of our friendly staff members will sit down with you and help you determine if Volbella is right for you!