Non-Surgical
No incisions, no scars, no downtime – it's no wonder non-surgical procedures are quickly becoming the most requested cosmetic treatments in America. Benefits of non-surgical care provide:
Immediate and long-lasting results – Non-surgical treatments correct, restore, and enhance your face and body from top to bottom.
Quick, versatile treatment – With injectables, not only can your lips go from lacking to luscious, but forehead wrinkles, crow's feet, and double chin can be resolved conveniently during your lunch break.
Lose stubborn fat – eliminate fat comfortably, conveniently, and with no downtime with advanced technology and no surgery.
Attain smooth, flawless skin – Remove hair, smooth lines, correct scars, and resurface your skin without the risk of surgery or anesthesia
It's not magic, but it is miraculous that you can achieve that facial appearance and body outline you've wanted with non-invasive treatments and procedures. Learn more about how Renaissance Plastic Surgery can provide stellar results without surgery, scars, or downtime.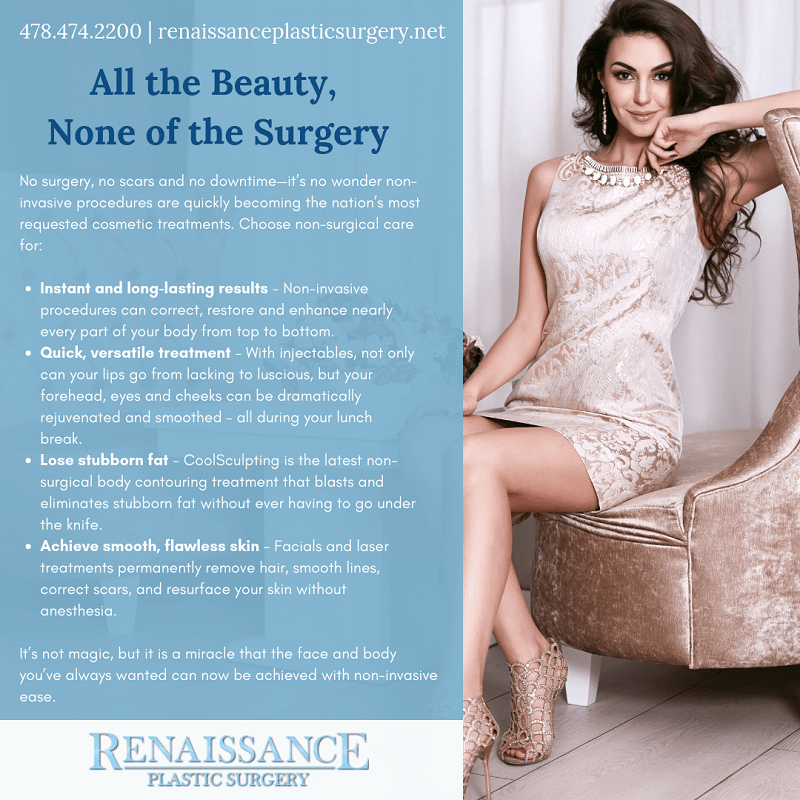 Injectables
Minimally invasive injectables like Botox and Juvederm offer convenience and results. They are popular treatments for facial improvement without the risk of surgery. Skin imperfections like wrinkles, lines, and folds can be treated effectively and safely using our select neuromodulators and fillers. We offer Botox, Sculptra, Juvederm, Kybella, Volbella, Vollure, and Voluma to enhance your facial beauty.
Our staff includes skin care professionals with the experience and expertise to administer the injectables we offer. They deliver excellent care and the credentials you would expect from certified injectors who produce optimal outcomes with little to no discomfort.
Hydrafacial
Our Hydrafacial system is groundbreaking technology which effectively moisturizes skin during a facial treatment. But that's not all; it also effectively exfoliates dead skin, extracts impurities from clogged pores, and bathes facial skin with cleansing and moisturizing serums. It is suitable for all skin types, including the most sensitive skin. It provides a fast, efficient treatment session which can be completed in as little as 15 minutes.
Our skin care professionals highly recommend this revolutionary technology to provide a facial which can moisturize, exfoliate, and infuse the necessary nutrients during your lunch break.
Microneedling
Repairing skin using the natural healing process of the body is fast becoming one of the more popular forms of facial skin rejuvenation. Our Rejuvapen Automatic Therapy System utilizes precision spaced microneedles to create tiny wounds which trigger elastin and collagen production to increase skin pliability and support.
Your skin will become firm and flexible, visibly reducing wrinkles and fine lines, reducing pore size, and improving the overall condition of your skin. Effects are moderate, like a sunburn which can be managed with a post-treatment recovery kit.
Laser Skin Resurfacing
This non-surgical treatment improves your overall skin appearance and treats skin discoloration. Board-certified surgeons will treat your skin from the deep dermal layers up to the skin surface. Our laser skin resurfacing system effectively treats skin issues, including uneven skin tones, sun damage, liver spots, fine to moderate wrinkles, and acne.
Vectra 3D
This imaging system offers our patients the opportunity to see what we can do for them before choosing a procedure. The Vectra 3D uses advanced digital imaging for the face to capture precise images with sharp definition. The technology ensures the consultation between patient and physician is productive in choosing the right treatment.
This state-of-the-art imaging system uses advanced software and a photograph station to provide precision imaging of what you can expect from the procedure. It is quick, simple, and remarkably insightful. Most of our patients are impressed with how close their results are to the digital simulation.
Schedule a Consultation
To learn more about how you can achieve skin health and facial beauty without surgery, talk to a cosmetic and plastic surgery professionals accessible to patients in Georgia, North Florida, and Alabama. We provide safe cosmetic care in our state-of-the-art facility in Macon, Georgia. Feel free to explore our website to focus on the aesthetic treatments which interest you the most.
Call 478-474-2200 or Schedule a Consultation Today
We offer Juvederm and Voluma for restoring lost volume in the face. These fillers provide a natural, youthful look. Both Juvederm and Voluma are primarily…
Sculpt My Dream – See your new breasts in 3D with Vectra. Learn more about this special simulation experience offered at Renaissance Plastic Surgery.  We will…