Non-Surgical Facelifts: Which Injectables To Go With?
What if you could get a facelift without ever getting a facelift? We're not talking about those clips some women use to tighten their skin or useless over-the-counter creams that never seem to do what they promise; we're talking about the chance to target deep wrinkles, pesky crow's feet, and volume loss with a state-of-the-art treatment: the liquid facelift. The liquid facelift is a combination treatment made up of Botox and dermal fillers galore, and it's been called one of the most effective facelift alternatives in the plastic surgery industry. And, because you get to customize your treatment by taking your pick of injectables, your rejuvenation will be tailor-made just for you. Curious about what your magic combination will be? Take a look at some of the most popular injectables used for a liquid facelift: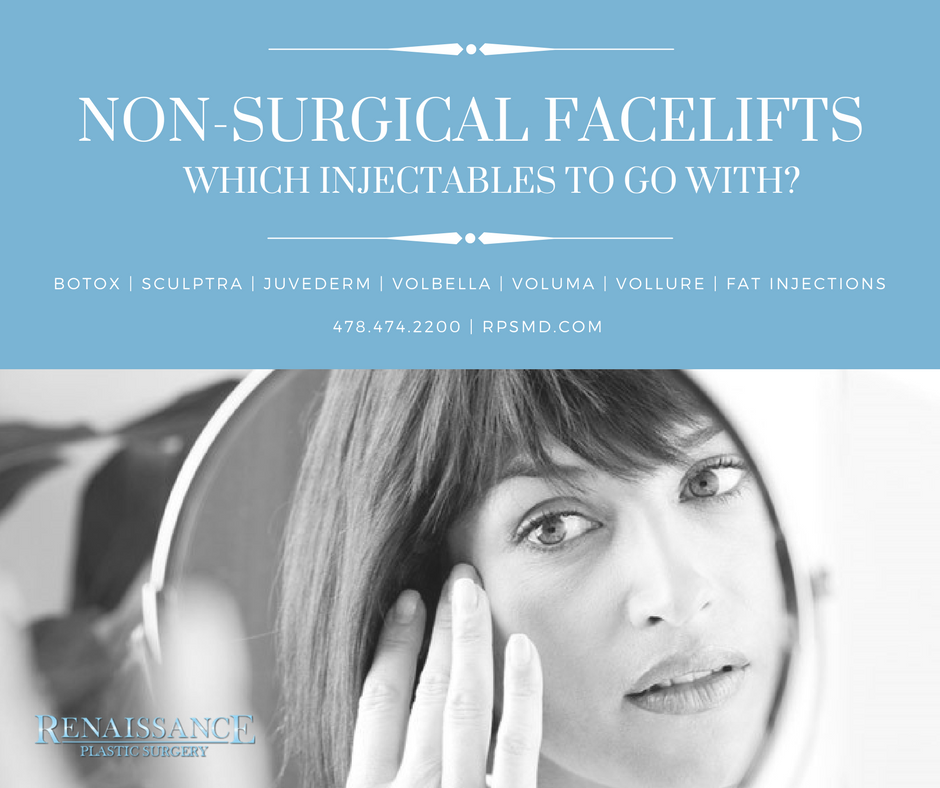 Botox
Botox is pretty much the gold standard for cosmetic treatments, and it's a crucial addition to any liquid facelift. Botox is renowned for its ability to target pesky expression lines like crow's feet and frown lines, but it's also got a host of medical uses. Regardless of what it's being used for, countless clinical studies have shown that Botox has been shown to be consistently safe and effective. Although, the best part is that Botox can last an amazing 3-4 months after one 15-minute treatment.
Sculptra
Sculptra is a dermal filler (a soft gel that's injected into the face) that's specifically designed to lift deep wrinkles like nasolabial lines. Sculptra is interesting because it's made out of Poly-L-lactic acid, a "biocompatible" substance that tells your body to make more collagen after it's been injected. That means: long term rejuvenation that lasts. In addition to its instant lifting and smoothing powers, Sculptra can rejuvenate the skin for as long as two years.
Juvederm
Juvederm is the flagship of the Juvederm line, one of the most popular hyaluronic acid fillers around. If you haven't of it before, hyaluronic acid is a natural substance that helps keep our skin plump and hydrated. That means in addition to lifting deep wrinkles and lines, Juvederm can help nourish and plump facial skin. It's also got an advanced formula that can last for as long as 6 months at a time.
Juvederm Volbella
This derivative of the Juvederm line is specifically designed to plump the lips and smooth out those fine wrinkles on the top of the lip called "smoker's lines". So what makes Volbella so special? Well, Volbella's hyaluronic acid gel is so soft and flexible that it can be injected in areas like the lips without it looking to puffy or artificial. So say goodbye to "trout pout" and "duck lips;" you can achieve a natural-looking and subtle allure with Volbella.
Juvederm Voluma
This Juvederm filler was created for lifting large areas of the face that might have been affected by volume loss. Unfortunately, one of the biggest casualties of aging are the cheeks, which start to sink in and become gaunt as we become older. If you want to restore definition and volume to the cheeks, the sturdy Voluma is the way to go.
Juvederm Vollure
Vollure is an extremely long-lasting, advanced dermal filler from the Juvederm line. As of now, it's the only FDA-approved dermal filler than can last for up to 18 months—and, it can do wonders for smoothing out the nasolabial folds.
Fat Injections
Surprised? Don't be. Fat injections have been used in plastic surgery for decades, although new improvements in medical technology have allowed us to use it for restoring volume to the face and other areas. Fat injections are popular because they come from the patient's real tissues; that means they move, look, and feel just like the real thing.

So, how do fat injections work, exactly? First, we'll use liposuction to extract a sample of fat–so you won't just get incredible facial rejuvenation, you'll also have the chance to slim down an area of your choice! That fat is then cleaned and prepared to isolate the most usable fat cells. Then, your physician will inject the fat grafts where it can make the most dramatic changes. So, with fat injections there are no foreign substances or implants—it's just you!

Now that you know more about what a liquid facelift can do, it's high time that you found a qualified, renowned practice that can give you the right treatment. Renaissance Plastic Surgery is what the industry calls a "Black Diamond Practice," meaning it's in the top 1% of cosmetic practices in the nation when it comes to delivering injectables. It's that level of care, artistry, and experience that allows us to achieve wonders with our liquid facelift. So, if you want your rejuvenation treatment delivered by some of the best in the industry, contact Renaissance Plastic Surgery now, for a consultation.

« « Dermal Fillers: Volbella, Voluma & Vollure Explained | The Recovery Process: Liposuction » »