Dermaplaning
Dermaplaning: What Is It and Why Should You Consider It
With the insane number of beauty products available on the market and a new beauty trend being promoted by Instagram-influencers every day, it can be confusing to figure what's good for your skin and what's not. That's why you may have missed hearing about dermaplaning – an exfoliating treatment that gently scrapes the surface of your skin and gets rid of dead skin and "peach fuzz" to reveal brighter, smoother, healthier skin. Sounds interesting? Keep reading to get the lowdown on dermaplaning – how it works, the risks, pain, and more.
How does dermaplaning work?
You can think of dermaplaning as a turbo-charged exfoliation treatment. With age and exposure to environmental toxins and irritants, the skin of your face starts to look dull and uneven, giving you a tired, aged look. Dermaplaning involves the use of a surgical scalpel (exfoliating blade) to remove the dead skin cells and hair from the surface. The process is also called epidermal leveling.
The result is smoother, brighter, younger-looking skin that's baby-soft. What's more, your make-up goes on better after dermaplaning because you have a smoother base for the foundation. And because the treatment removes debris from the skin surface, which is a barrier to skincare products penetrating the skin, the products work more effectively after dermaplaning.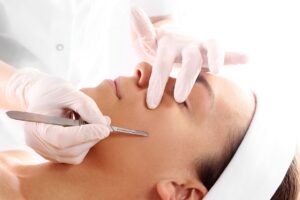 What skin problems does dermaplaning treat?
Dermaplaning makes the skin surface smoother. One of the most common reasons people get this treatment is to get rid of "peach fuzz," the soft, short hairs that grow on the face, especially the chin. It can also help with problems like clogged pores, sun-damaged skin, dry skin, dull skin, and fine lines.
The basic concept of dermaplaning is shaving the damaged top layer of skin. The tool used to perform dermaplaning is like the razor you use to remove body hair. The treatment consists of holding the skin taut and slowly moving a sterile blade across it at a 45-degree angle to remove debris (dead skin cells) and fine hair that makes your skin look uneven. Dermaplaning is, therefore, a sterile way to get rid of vellus hair (peach fuzz). It goes a bit deeper than microdermabrasion, and it can trigger the regeneration of new skin cells, thereby improving the appearance of things like acne scars.
Is dermaplaning painful?
You don't feel any pain during the dermaplaning treatment. Some patients find the treatment relaxing. The treatment itself lasts around 30 minutes. Afterward, our aesthetician will place a soothing, moisturizing substance and sunscreen on your face to protect the new skin.
What's the downtime and recovery after dermaplaning?
There is no downtime after dermaplaning. Your skin will feel exfoliated and may look red 1-2 days after the procedure. You can, however, return to normal activities and work immediately after the treatment.
When will I see results? How long will they last?
The results of dermaplaning are visible almost immediately. It takes 2-3 days to appreciate the full effects, but once the redness goes away, you'll have visibly smoother, brighter, softer skin. The results of dermaplaning are not permanent, unfortunately. The peach fuzz grows back, and the dead skin cells collect again. Roughly 3-4 weeks after the treatment, the results start to fade. You can return for a treatment every 4-6 weeks.
What are the side effects and risks?
In the hands of an experienced provider, dermaplaning is very safe. It is a low-risk procedure, and complications like scarring or infection are rare. The most common side effects are mild redness of the face for a couple of days after the treatment.
You will need to be extra careful about protecting your skin from sun exposure after dermaplaning by wearing sunscreen whenever you are outdoors.
Am I a good candidate for dermaplaning?
If you have dull, tired-looking skin and are bothered by peach fuzz, dermaplaning could be a good treatment for you. It's an option if you've tried other hair removal methods and found them to be either ineffective or irritating to the skin. Dermaplaning is recommended for anyone who is in good general health and is looking for a non-invasive facial rejuvenation treatment. It is a myth that people with dry skin can't get dermaplaning or that the treatments make peach fuzz grow back coarser or thicker. If you have concerns about dermaplaning being right for your skin type, talk to our medical aesthetician, and she would be happy to help you.
Who should avoid dermaplaning?
Anyone with active acne, skin infection, or cold sores is not a good candidate for dermaplaning. This is because the treatment can spread the bacteria or virus to a wider area and lead to more inflammation, sometimes causing complications like pigmentation or scarring. It is also not recommended in people with eczema, pigmentation problems, a tendency to form keloid (raised) scars or excess facial hair due to hormonal imbalance.
Can I use DIY dermaplaning tools at home?
There are dozens of DIY dermaplaning tools available on the market that claim to give good results, but there are major downsides to doing this treatment at home. There have been instances when the blade has caught on a hair and dragged across the skin, causing permanent scarring.
Another reason to steer clear of home dermaplaning tools is that in patients with certain medical conditions like polycystic ovary disease who have excess facial hair, misuse of the treatment can lead to worsening hair growth. When you come to our office for the dermaplaning, we perform a careful examination and obtain a complete health history before recommending the treatment to you.
Dermaplaning conclusion
If you love the idea of an even skin tone, a radiant complexion, and silky-smooth skin with a quick and safe office treatment, talk to our aesthetic provider today about dermaplaning.